Your concern is important to us - only in direct dialogue can complex issues be explained simply.
ELECTRONICS PRODUCTION
Flexible, reliable, personal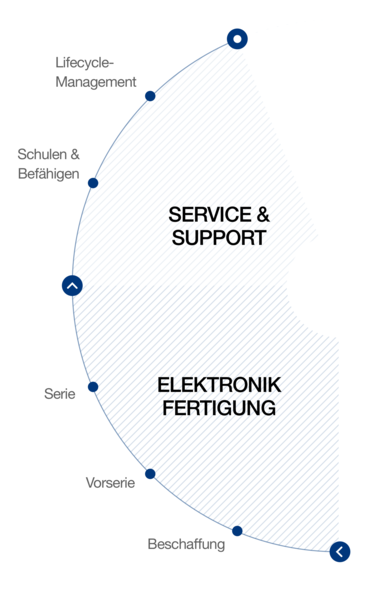 When the engineers have developed the hardware, it's all about the competent production of your module. We support you in this, regardless of whether your own or our experts have designed the system. Smooth interaction is crucial. Take us on board early and we will bring you effective added value for your success.
At hema, highly individual electronic components are created from a wide variety of parts with the competence of experienced and trained colleagues.
Production of top-quality modules

At hema, there is close contact between electronics manufacturing, purchasing and development. The entire production process thus benefits in full from the know-how of all departments. The close cooperation between the specialist departments at hema brings a real advantage to you as the client.
Making sophisticated industrial electronics available over the long term is our aspiration. hema's modern production is well positioned to reliably supply our clients with modules. Quantities of between 1 and 1,000 are manufactured to the client's specific requirements in both SMD and THT assembly. High mix and low volume production batches are the speciality towards which we have configured our production. At the same time, we have established ourselves globally on the procurement side in order to ensure long-term availability.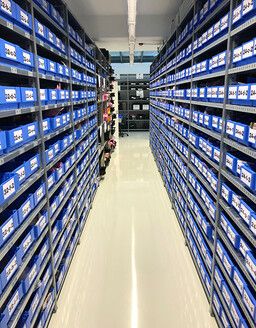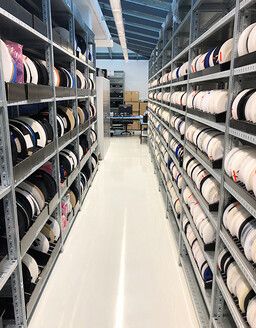 Our warehouse is stocked with millions of components, including more than 20,000 different types
Production-Know-how:
SMD assembly
THT assembly
Soldering with lead-free or leaded solders, depending on the specification
Assembly of modules and complete systems
Commissioning with software
Functional & endurance tests
Quality control and documentation
Test reports containing the serial number, version and revision information for traceability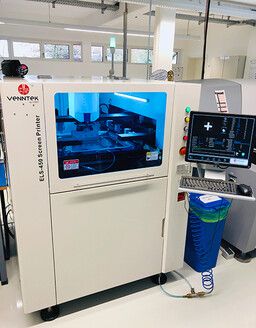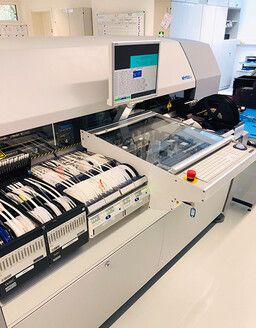 Screen printing and assembly in a flexible structure for fast prototype production and series with up to 1,000 units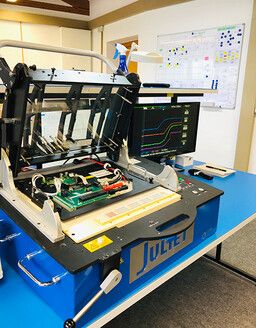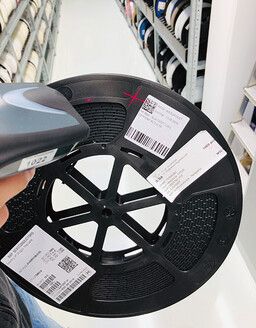 Automated function tests for devices and systems ensure their reliability
Material tracking and stocking ensure long-term availability
We support the reliable supply of your production with accompanying services that cover all aspects of procurement and production:
Procurement, service and support over the entire product life cycle
Traceability: full batch-based traceability
Production of initial samples, prototypes, small series and medium series
Systems assembly
Obsolescence management
Key facts
Around 800 m² of floor space are given over to manufacturing, cleaning, testing and quality control of electronic circuit boards. In Production, a total of 20 our colleagues are working for you in the fields of production planning and control, SMD and THT assembly, device assembly and testing, quality management and logistics.
We regard the highest IPC-610 Class 3 as standard. That's how we guarantee the best quality for your products. The average batch size of circuit boards is 75 units.