At the VISION trade fair in Stuttgart (05.-07.10.2021), hema electronic will present its embedded vision solutions at the joint booth with Enclustra (booth no. 8D15). The focus will be on the modular embedded vision platform, which is available with FPGA modules from Enclustra as well as with the recently introduced edge AI SoMs of the Kria series from Xilinx. Using the modular principle, customers configure individual electronics with the platform, which are developed and produced as near-series prototypes within just six weeks.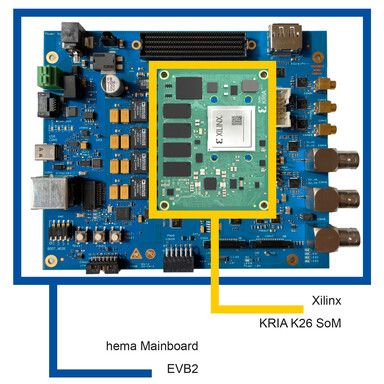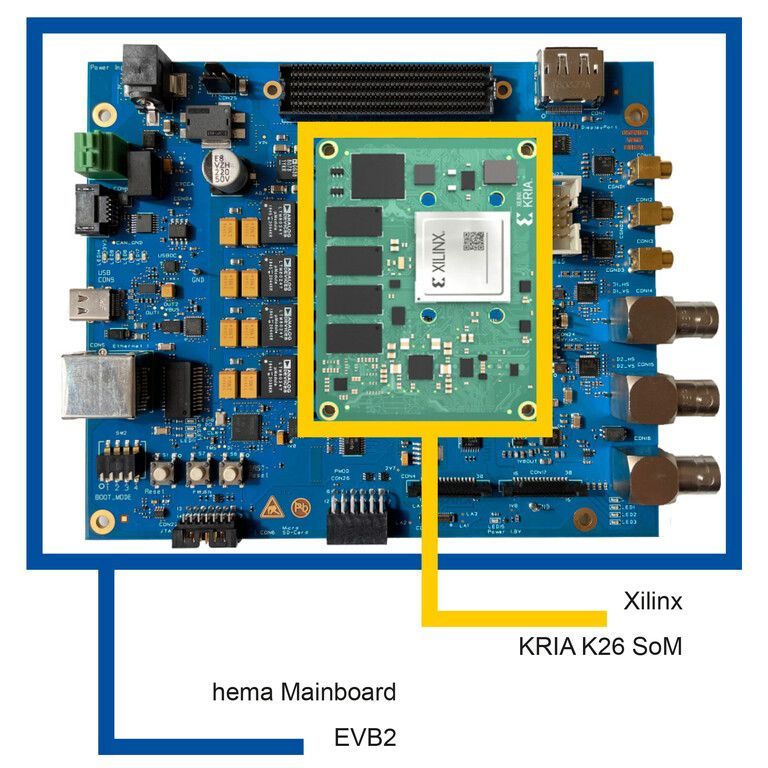 World's first Xilinx Kria mainboard for industry
Numerous demonstrators at the booth show the flexible use of the hema embedded vision platform - from ultra-low latency applications to multi-sensor/multi-signal processing and a face recognition demo with the Xilinx Kria SoM. Here, the newly developed hema mainboard EVB2 is used - the world's first industry-standard mainboard for the Xilinx Kria K26 SoM.
The combination of its computing power and edge AI capabilities and the numerous video and sensor interfaces that can be customized via the embedded vision platform make the solutions the optimal basis for all-round vision, broadcasting and security applications in vehicles, drones and smart cities, as well as for all machine vision and robotics applications.
Prototype ready for series production in six weeks
Customers benefit from fast and cost-effective development when using the platform. The first prototype, already with near-series circuits and components, is produced in just six weeks from specification and order. This allows companies to start developing their own applications at the earliest possible stage. This is further simplified and accelerated by the Linux-based board support package and the Xilinx Kria Environment with numerous developer tools and software. As a rule, the preliminary work can be used directly on the later series hardware. The series qualification of the hardware is carried out by hema electronic together with the customer and, if desired, maintenance and lifecycle management for the product are also taken care of.