Your concern is important to us - only in direct dialogue can complex issues be explained simply.
OUR VISION
We effectively support our customers in being tomorrow's world market leaders.
Because we are convinced that long-term and sustainable action is the best way to a successful future together - a family-owned business since 1978.
We are a leading development service provider in the electronics industry. Embedded systems, sensors and embedded vision are the areas of specialisation where we have focussed our expertise.
We provide effective support for our innovative customers in industrial automation, defence technology and security technology as they work towards developing successful products. We always meet the highest performance and quality requirements in a targeted manner.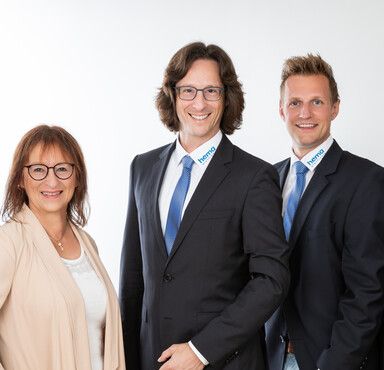 The hema Management-Team:
Managing Director Charlotte Helzle,
Managing Director Oliver Helzle,
Director Operations Dennis Burkert
DOWNLOAD:
With highly qualified advice and engineering services combined with first-class production competence, we offer individual projects from a single source and support them consistently over the entire product life cycle.
As a family-owned business in the second generation with a clear, long-term strategy, we are in demand as a partner of successful companies. Effective, customer-orientated and innovative!

2449
Developer hours for the Embedded Vision Platform - our upfront service for your project.
5
Weeks to your prototype - close to series production and with industrial-grade circuits.
19259
Electronics from hema prove themselves in practical use.
Hightech-Engineering in a family business
Welcome at hema electronic

Oliver Helzle, Managing Director of hema electronic, takes you on a tour through the company and tells you how we effectively support our customers in becoming the global market leaders of tomorrow.
We would be happy to tell you what is important to us.
Being effective:
We perform our daily tasks effectively and efficiently
We deliver high utility value through successful and consistent implementation
We're not satisfied until our customers are successful
Fair and honest when dealing with our customers and partners
Learning and growing:
We consistently build up knowledge for the developments of tomorrow
Innovative strength is what drives us, and is our promise to our customers
We surpass ourselves by always finding effective solutions
Delivering top performance:
Passion and excellence drive us onward
We accept new challenges with enthusiasm
We contribute with discipline towards your success
As a family-owned company:
We go the extra mile
Our customers, partners and colleagues can rely on us
We act flexibly and adopt a long-term approach
We are authentic and self-confident
What is important to you?
Discuss your project and your ideas for effective cooperation with us.
History: The hema success story

We can look back with pride on over 40 years of successful company history. Find out more about how hema came into being and grew:
1978 - Charlotte and Manfred Helzle found the engineering office hema.
1979 - hema develops a device for battery quality assurance with statistical evaluation for Varta in Ellwangen. First large series of 120,000 units with new production facilities.
1982 - hema develops the first generation of controllers for thermal analysis devices for Netzsch Gerätebau in Selb - the start of a successful collaboration that has continued to this day.
1984 - hema develops honing machine controllers and fast controllers for show lasers.
1991 - hema develops computer components and systems for research and development, and brings its first image processing products onto the market.
1994 - hema develops test benches and crash test computers for the automobile industry.
1996 - hema develops control components for the laser scanning microscopes of Carl Zeiss in Jena, and image processing systems for veneer surface inspection for mecano in Finland. Charlotte Helzle becomes sole Managing Director.
1998 - hema develops and produces CAN bus control modules for Bosch.
2001 - hema develops video technology for thermal imaging cameras.
2003 - hema develops its own line of intelligent cameras: the seelectorICAM. Together with the HDRC sensor from IMS, a camera is created for special operating conditions.
2004 - In cooperation with Carl Zeiss SMT, hema develops control systems for the testing of lenses for the semiconductor industry and veneer inspection systems for Werzalit Furnier. The seelectorLUX product series is brought onto the market: Lighting systems with power LEDs for image processing tasks. Oliver Helzle joins the company.
2008 - hema and Daimler AG implement the successful monitoring of robot-guided laser welding in the project VISIR. The ICAM camera is further developed for the welding industry as part of a cooperation project with the project partner SLV.
2010 - hema brings the LED linear light system seelectorLUX HD and SD onto the market.
2012 - seelectorICAM Laser, the joint project with Daimler, is launched on the international market.
2013 - The seelectorICAM HD4, which has been optimised for robots, is presented at the trade fair and is very well received.
2015 - hema is awarded the "TOP INNOVATION 2015" innovation prize for its new product seelectorLUX OLED. Inauguration of the 600 m² extension building.
2016 - The seelectorICAM Laser for welding steel and aluminium is used in vehicle construction on 4 continents.
2018 - Generational change at hema with a new management team.
2019 - Presentation of the new FPGA-based video platform at the embedded world trade fair.
2022 - 1st place in the ELEKTRONIK readers' choice "Products of the Year" for the hema embedded vision platform, embedded hardware category.
Learn more about hema electronic